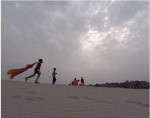 1. Children of the Pyre:
(English & Hindi / 1:14:00 / 2008 / Varanasi / Rajesh S Jala)
This is a compelling real-life, self narrative of seven such extraordinary children who make their living out of the dead. They collect; snatch or steal used coffins shrouds and sell them for petty amounts in order to ensure their own and their family's survival.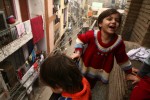 2. In Search of My Home:
(Hindi, English & Chinese / 0:29:55 / 2010 / New Delhi / Rintu Thomas & Sushmit Ghosh)
In search of my home is a journey with a Burmese and an Afghan family, as it explores the complexities in their everyday battle for survival. Weaving their emotional stories of hope and despair, love and loss, the film uses live-action, photography, music and text narratives to tell a story that is absent from India's collective conscience and mainstream media.
3. Thodi si Zameen, Thoda Aasmaan:
(Hindi & Gujarati / 0:08:00 / 2009 / Ahmedabad / Shashi Ghosh Gupta)
'Thodi Si Zameen, Thoda Aasmaan' is a peek into the world of street entrepreneurs, who lead their lives in the shadow of constant threat. The film takes a look at the problems faced by them in a sympathetic and quietly intimate manner. Phuphabai is a tailor, who repairs clothes sitting under a tree, to provide a life of dignity to his family. While Mukeshbhai refurbishes sofas, struggling to keep his home (which is the road itself) fires burning. Both these individuals appear different yet share a similar tale of courage, and a persistence to survive.
4. Fairy-Tale of the Queens:
(Bengali / 0:16:30 / 2009/ Dhaka, Bangladesh / Shahiduzzaman Badal)
A wretched poor, Manju Rani merely used to serve at other's house. Her family was delved in poverty if one time managed meals, the next time starved. Now she has changed herself through sewing quilt. Like Manu Rani, many women are involved in making quilt, which has changed their family condition.
5. Mook Dariya:
(Hindi / 0:24:00 / 2009 / New Delhi / Pooja Shali, Monazir Alam, Sonia Nepram & Tenzin C. Bhutia)
Mumbai grew in and around the original founders of the city "The Kolis" (the fishermen community). But the waves of development have ignored their contribution towards the business capital. This documentary connects their livelihood with the current/present characteristics of the city along with the issues that directly or indirectly affect their habitat. It also touches some serious environmental issues along with their culture and festivals. This audio-visual voyage is an attempt to search the source of motivation for their livelihood. The roots of the same somehow lies in the music "Koli Geet" and festival "Nasli Poornima".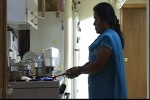 6. Behind Closed Doors:
(English / 0:27:00 / 2009 / New York & Mumbai / Pracheta Sharma)
Domestic workers are the backbone of millions of households in New York City. They are ignored, underpaid and exploited in the privacy of homes. Behind closed doors nannies and maids live in isolation allowing abusive employers to treat them like slaves. Caught in a vicious cycle of trafficking, a group of South Asian women are fighting back. These women have only one thing to rely on: themselves!
7. Banking on Change:
(English & Tamil / 0:12:00 / 2010 / Tamil Nadu / Andrew Hinton)
Two thirds of India's population of a billion people lives in the nation's 600,000 villages. Despite India's economic growth, the disparities between the wealth and poverty are enormous. Many villages migrate to the cities in search of work and end up begging on the streets. South Indian Bank Manager, J.S Parthibhan set out to do something to help their economic circumstances. He encouraged beggars to open bank accounts in New Delhi, and pioneered micro loans to villagers in his home state of Tamil Nadu. This is his story and theirs.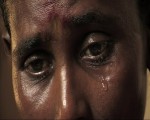 8. The Holy Wives:
(Kannada, Telugu & Hindi/ 0:01:00 / 2010 / Karnataka, Andhra Pradesh & Madhya Pradesh / Ritesh Sharma)
It brings out the lives of three different communities who have been victimized in the name of caste based sexual exploitation in India, through the stories of their struggle for and their dreams of dignified life for their children. The film documents the life of women, who are raped in the name of tradition and the impoverished life that she leads thereafter. "The Holy Wives" is a journey through the life of Devdasis in Karnataka, Mathammas in Andhra Pradesh and Bedinis in Madhya Pradesh.
9. Re-Moulding the Life:
(English / 0:30:00 / China)
An Youfang is a folk clay sculpture artist born in a remote village of Qinghai Province in West China. Poverty and physical defect have left their marks on her early life, making her self-abased and lonely. After many painful struggles, and with the help of countless kind people, An is staunchly marched towards her goal. She is now a cheerful, optimistic and confident woman full of vitality. With her hands, An has brought beauty to others, and has also re-moulded her own life.
10. Bhookh:
(English & Hindi / 0:14:01 / 2010 / Delhi / Ramesh Vishwakarma)
Though Delhi has its arms opened for everyone, there is no guarantee of getting enough food to satisfy the hunger. But people still have found ways to satisfy their hunger pangs and source of livelihood even if it is dangerous for them. There is small slum basti across the rivers at Iron Gate Bridge near Lal Qila. The poor people of this slum depend on the very garbage, polythene, wood, coconut or the coins thrown in Yamuna for their livelihood.
11. Director Painter Shri Baburao Laad Saheb:
(Hindi & Marathi / 0:14:00 / 2010 / Dharavi, Mumbai / Richa Hushing)
The film portrays the fascinating character of actor, director, cameraman, producer, painter Baburao who is FSA-Film Serial Advisor and runs 5 Star Acting Class in Asia's biggest slum Dharavi. Baburao has directed three local feature films and has written a book 'Acting Master'- a learn from home guide to film making. The elitists may rebuke his filmmaking, calling it crass; however, Baburao is an entrepreneur and filmmaker in his own right. This documentary is his character portrait, reflecting the paradigm and scale within which he operates.
12. Gaon Chodab Nahin
(Hindi / 0:05:18 / 2009 / India / K P Sasi)
The adivasis, the original or indigenous dwellers, face massive displacement due to development projects, destroying the roots of their survival. A voice of assertion that echoes through out this music video that captures the marginalization of adivasis all over India.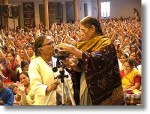 13. Shooting Women:
(English / 0:54:00 / 2008 / India / Japan / China / USA / England / France / Canada / New Zealand / Turkey / Senegal / Mexico and Others / Alexis Krasilovsky)
Our global documentary reveals the courageous lives of pioneer camerawomen from Hollywood to Bollywood, from war zones to children's laughter, in a way that has never been seen before. Based on the book "Women Behind the Camera" by Alexis Krasilovsky, our film tells the stories of camerawomen surviving the odds in Afghanistan, Australia, Canada, China, France, Germany, India, Japan, Mexico, Senegal, the US and other countries, as well as exploring their individual visions and their hopes and dreams for their communities.
14. The Wild Meat Trail:
(English / 0:28:00 / 2008 / North East India / Rita Banerji & Shilpi Sharma)
Wild meat hunting and consumption is an integral part of the life of communities in the north east of India. Open wild meat markets exist in different towns and cities across the states. The Wild Meat Trail is a quest to get some insight into the extent of the hunting practices and its place in the current cultural context. It is a journey through the North East of India-travelling from small towns to remote villages, trekking through the wild terrains, participating in village rituals, talking to sellers and consumers- in an attempt to develop some understanding of the state of the wildlife and whether there is another path possible.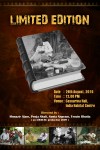 15. Limited Edition:
(Hindi / 0:24:00 / 2009 / New Delhi / Pooja Shali, Monazir Alam, Sonia Nepram & Tenzin C. Bhutia)
To fulfill his dream of becoming a writer, Lakshman Rao traveled from Maharashtra's Amravati Village to Delhi. Even after 30 years, Rao continues to struggle to get his books published. To sustain his family, he travels everyday to ITO to sell cups of tea.
16. Dhananjay Kulkarni 'Chandragupta':
(Hindi / 0:11:00 / 2010 / Mumbai / Rrivu Laha)
He migrated to Bombay, 15 years ago, with one dream-to write for films…Every night as he watched the spectacle of Bombay unfold before him, he spun stories that yet wait public affection…However he is content with his recognition in the literary world, and resources which come from a security job…He is a night watchman and a writer. He is Dhananjay Kulkarni 'Chandragupt'.
17. I am a Nurse:
(Hindi & English / 0:32:00 / 2009 / New Delhi / Violet Barman)
Does a mother always have to be just a mother? 'I am a Nurse' is a personal exploration of a daughter rediscovering her mother as a woman, as a professional and as someone who lived life on her own terms. Through Lilly Sebastian the film traces the journey of Nurses from Kerala and how nursing has given these women a new identity.
18. You & Me and Everyone we know:
(English / 0:24:00 / 2010 / Delhi & Mumbai / Kuber Sharma & Surabhi Saral)
A very personal film, You, Me and Everyone we know, explores the way neo liberal reforms and the developments that followed them completely changed the lived realties of their first batch of recruits. The film tries to uncover and examine the finer nuances of modern Indian middle class identity. At one level, it broadly maps out the corporeal changes that have been ushered in through the neo liberal reforms. Moving onto another level, the film, characters probe deeper meaning of belonging to a (Rising) India for the young Indian.
19. The Nine Months:
(Assamese / 1:17:00 / 2010 / Assam & North India / Merajur Rahman Baruah)
The state of Assam dwells a form of entertainment, called Mobile Theater a Touring repertories. They pitch their tents in open space and erect a makeshift auditorium with a seating capacity extending from 2000-2500. Each theater group consists of 120-130 personnel i.e. cast and crew including musicians, electricians, cook and drivers. Each theater troupe travels across the state to 70 different pre-fixed locations and perform for 120 nights without any break. This film is about the genre and aesthetics of the unique form of performing art and reflects the life of approximately 5000 people engaged in the theatres during nine months of stay in a theatre season.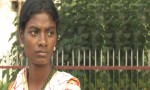 20. Delhi Bound for Work:
(Oriya, English, Hindi & Kharia/ 0:58:00 / 2009/ Delhi, Jharkhand, Orissa & Chattisgarh / Reena Kukreja)
Each year thousands of poor, young women migrate from villages of eastern India to seek employment as live-in domestic workers in urban centers within India. The film offers an intimate glimpse into their lives as they work in the city whilst providing for their families.
21. Soul Voice, Solo voice:
(English & Hindi / 0:30:00 / 2008/  India / Mallika Sarabhai & Yadavan Chandran)
This film celebrates Rukmanbai, the first woman to break the male bastion amongst the Manganiars of Rajasthan, famed bards and singers, whose popularity has grown to enviable heights today.