Study of Street Markets of Jaipur – Phase – II
Fruit Market from Johari Bazaar to Sanganeri Gate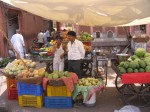 Location: From Johari Bazaar to Sanganeri Gate, Jaipur

Market in Existence: 40 Years

No of Vendors: 40

Business: Fruits

Association: No

Vendors Interacted: Mr. Deepak Jain (9352149599), Mr. Kailash Jain (9414 072023)

Major Findings:
There is a small whole sale market in Johari Bazaar and all the vendors on the road buy from this whole sale market and sale on the street and carts.
Some of venders have taken illegal power connection from a nearby temple.
Shopkeepers in the nearby whole sale market throw their garbage on the street which creates problem for these street vendors.
Whenever authorities come on clean drive the vendors stop their business but come back later.
The vendors also bribe the officers/police to continue their business.
The vendors are ready to be relocated to other convenient place where business is available.
Johari Bazaar is a busy market with huge inflow of vehicle especially in office hours which creates frequent traffic jam.
Study done by: Ishu Goyal, Jain Vishva Bharati University, Ladnun on May 20, 2010