Street Markets of Jaipur
Malpura Gate Market, Sanganer (North)
Location: Malpura Gate, Sanganer (North), Jaipur

Market in Existence: 25 Years

No of Vendors: 50

Business: Chat and Fast foods, Vegetable hawkers, Kitchen ware hawkers, Tobacco vendors, Pan vendors, Juice vendors, Tea vendors, Helmet vendors

Association: Thadi Thela Vyapar Union, Sanganer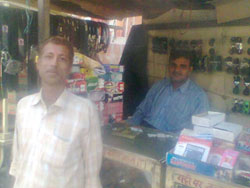 Major Findings: The major problem they are facing is of identity and illegality of business. Their association has issued them identity card but that isn't recognized by Municipal Corporation. The vendors wish to have license for their business. They have even applied for licenses with Municipal Corporation but they haven't been issued licenses.
Problem to Traffic: The vendors feel that they are always seen as problem to traffic and no significance is given to their work. So there isn't much dignity in their work. Officials from Jaipur Development Authority and Jaipur MunicipalCorporation visit them very often, harass and ask to move to some other place but the vendors come back to their place again the next day. Vendors have also to bribe the officers to continue their business.
The vendors are ready to relocate to some other convenient place where business is viable.
Study done by: Amit Karnani, IPS Business School, Jaipur on 19.Feb.2010