Street Markets of Jaipur
Thadi Market, Mansarovar (North)
Location: Thadi Market, Mansarovar (North)

Market in Existence: 25 Years

No of Vendors: 100

Business: Garments, Chat and Fast foods, Vegetable, Fruits, Kitchenware, Tobacco & Pan, Fruit Juice, Tea, Helmet etc.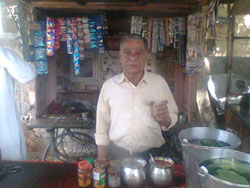 Association: No Association
Major Findings:
The vendors are vending on the street. They don't have permanent place to run their business. Hence, the biggest fear for them source of livelihood in case of eviction. The fear of no permanent area.
The vendors have been vending at this place for around 25 years but they haven't been issued any form of license or identity card so far which makes their business illegal.
The vendors are issued Challans very frequently which takes away a major part of their earning.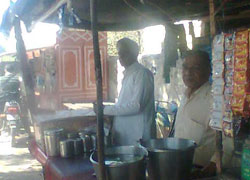 The vendors accept that they have to pay some money to traffic police on the regular basis.
The vendors find that there is no dignity of work in this business. People abusing them is very common in the city. They are seen as encroachers creating problem for traffic and aren't considered as service provider.
Vendors run their business in open and they don't have any permanent arrangement which forces them to face the hard whether. During rainy season it create more problem for cleaning of the market.
Street vendors accept that they are harassed by the officials of Jaipur Development Authority, Jaipur Municipal Corporation as well as Traffic Police. At times they pay around Rs 100/- to 150/- to the traffic police.
Vendors are open to relocate to other places too if good market location is provided to them.
Study done by: Hemant Sharma, IPS Business School, Jaipur on 19.Feb.2010